Last weekend was the first time in 2 months since I joined the ranks of working class adults, that I had to wake up early on a freaking SATURDAY! Naturally, it was not without complaints and ramblings. The company signed us up for First Aid Day at the NVPC which was organised by the Red Cross of course and we had to attend to learn basic first aid and CPR.
Initially, we thought we were in for a really boring day. We literally, dragged our feet to the NVPC and psyched ourselves for a looooooonnnnngg lecture. We'd heard about how there was a "practical" at the end from the seniors who'd attended the course before but nevertheless, we still didnt know what to expect. Turns out when you're with some of the seniors, things can be really fun. HAHAHA.
During the practical, which started after millions of people went up stage to talk about the importance of First Aid, we learnt how to do a head bandage. Everyone turned out looking like they were sporting some really cool headgear.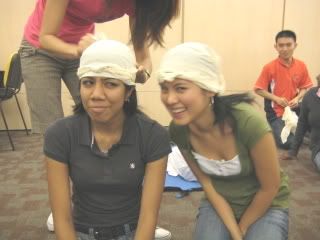 Learnt how to pretend to strangle yourself choke and UNchoke people.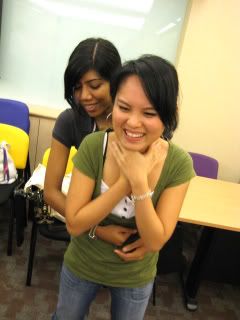 Somehow everyone just looks very happy to be choking. Haha. But well, if you do see someone holding onto their necks, you can pretty much be sure that he/she is choking. Just to be sure, always double check by asking, and if the person CANNOT respond to you, then yes, you can be sure that you need to intervene!
And then we learnt how to measure boob circumference…… NOT.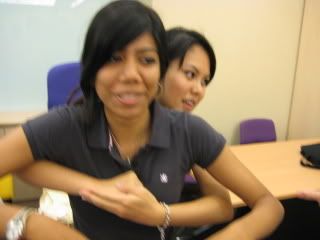 And then came the really interesting part, where we had to do mouth to mouth for CPR! *jeng jeng* Who was the lucky one who'd get to do mouth to mouth with so many people?
Little Annie.
A dummy.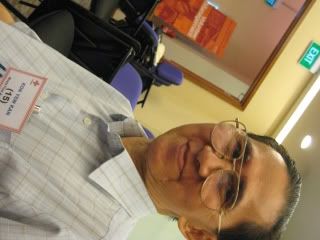 OOPS! Sorry WRONG PICTURE. That's not Little Annie. That's our instructor whose name I didnt get. But he was a real good sport even though we were making loads of noise while he was teaching and laughing at each other. Occasionally laughing at him too. HAHA. Dont you think he looks like he's teaching kungfu in this picture?
We still had time to cam-whore while he's talking.
Once we got through the theory on how to do CPR, everyone had a go at it. Doing 5 sets of 30 compressions can really be quite tiring!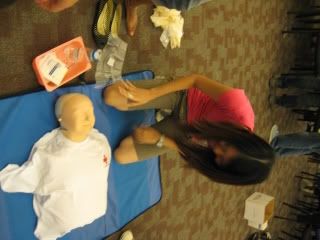 Panicking! OH NO. Somebody HELP! Dont worry! I know CPR!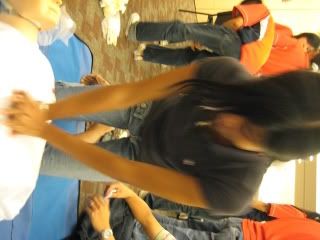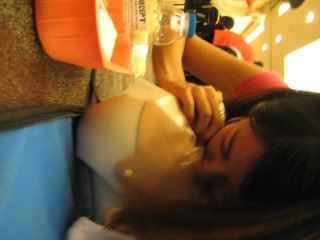 Makin' out with the doll, Annie. LOL. And a huff and PUFF!
The look of concentration was quite evident on everyone's face.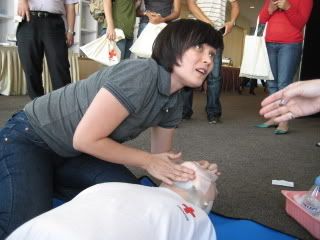 Using that as an indication, you can be sure that we took some valuable lessons away that day despite a gruelling morning! Haha! First Aid Day wasnt as bad as we thought it would be.
Read More