Miss Singapore Universe 2009 Finals Picture Post
Short note: Photobucket kills the quality and sharpness of my pictures! It makes them blur. See if you can pick out those that are uploaded on Photobucket versus those that are hosted on flickr.
Even before I have the time to finish editing the Rhythm Stylus pictures, in comes a whole new slew of pictures. Thankfully I dont have to edit these pictures much and you'd be glad for that because it's an overload of beautiful girls!
I had an invitation to attend the Miss Singapore Universe finals 2009 at the Shangri-la. Because I was involved in the pageant last year as a contestant, it was obvious I would curious about this batch of girls and how the event was run in comparison to the previous year.
I arrived late because I had an earlier appointment and thus had to slap on my makeup almost half an hour prior to the actual event. Also, as it usual whenever you need a cab, Murphy decides to infer and it takes you FOREVER to get a one. Eventually we managed to hop into one and upon arrival, was very impressed with how had Shangri-la decorated the Island Ballroom and the HUGE runway for the girls. The atmosphere was abuzz with glitz and glamour. Everyone was dressed the the nines and was very very polished.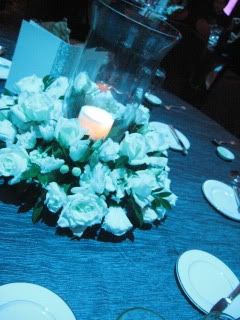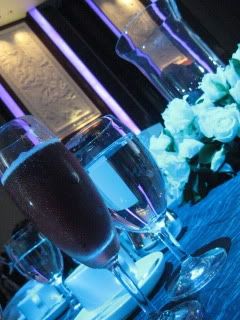 The book this year was pretty well done up too and it seemed as if they had a lot more sponsors backing the event this time around. The casual wear sponsor this year was Harley Davidson! The lucky girls got to be dressed in Harley gear for their photoshoot. I would die to do a shoot in Harley Davidson outfits!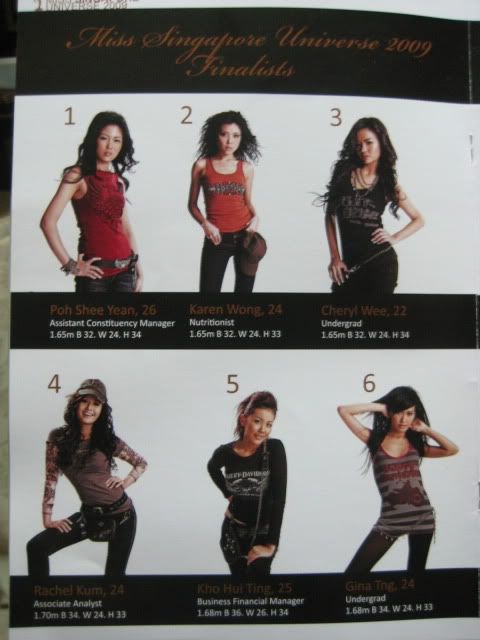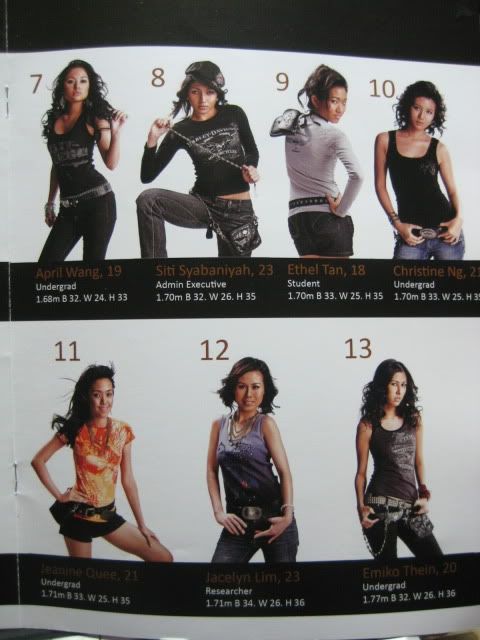 A fancy scmancy five course fine dining was our dinner for the night. After the appetiser of a crab cake with thai-styled sauce was served, we had a mild ginger cream based soup with prawn. It was definitely new but tasty; the prawn was firm and juicy.
Then the main course was delish cod fish!
To end the night off as the results are announced, TIRAMISU that came in the form of a pyramid similar to those in Egypt.
Absolutely heavenly.
Anyway, enough small talk. Here are the girls. I had prime seats near the judges; right smack in front of the stage. That allowed me to get pretty good shots with my Canon DSLR. Whooohoooo!
I thought all the girls looked beautiful. The makeup was carefully done on each girl; the evening dresses had good cuts, were slinky, simple and stuff I would ACTUALLY wear.
Presenting the girls individually in their evening gowns by Hayden.

April Wang. Yes she's Chinese.
I love her gown. So simple and classy!

Siti Syabaniyah. Her sparkly gown costs around 3.5k! Gasp!

Ethel Tan.

Christine Ng. Dont you think the colours on her gown are absolutely beautiful?
She also clinched a subsidiary award for the Obsession Hair Award.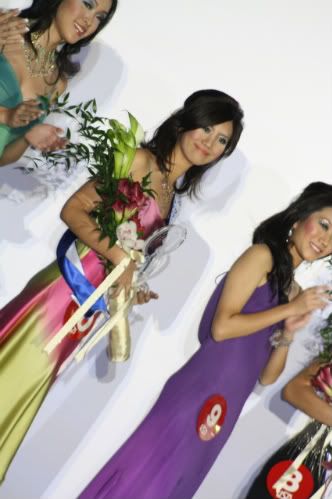 Moving on.

Jeanine Quee. Her green dress is my favourite among all the dresses! So floaty, so whimsical, akin to a mermaid, with a hefty price tag of about 1k.

Rachel Kum. Easily the prettiest and obvious crowd favourite.
She has a really sweet face and I think she looks like a Barbie doll!
Soon the main course is served and the Top 5 girls are announced. This year, the total number of finalists was lesser than that of last year's and they thus only had Top 5.
In no particular order,
3 – Cheryl Wee
4 – Rachel Kum
7 – April Wang
11 – Jeanine Quee
13 – Emiko Thein
After which the infamous Q&A segment followed.
The questions this year were rather tricky. They included:
– What is the biggest lie you've ever told?
– What have you done in these recession times to help yourself?
– Do you think a beauty queen should be seen drinking till drunk and smoking?
– Would you date a guy much younger or much older than you?
I think Cheryl did a very good job with her question. She answered confidently and very eloquently with great content on dating very much younger or older men.
See the distress on her face? Rachel's question was a tough one. She got the one about recession and for the first part of her answer she kinda was beating around the bush, fumbling to piece together a coherent answer. I must admit, however, that she did make a great comeback and finished off the question pretty well saying she has based her spending on needs instead of wants.
Jeanine picked, "Do you think a beauty queen should be seen drinking till drunk and smoking?" and answered well too saying "No" and justifying her answer appropriately.
Honestly, I think all of the girls answered really well and none had blonde moments.
Other girls at the mike.
Very soon THE RESULTS!
But not before, AJ Dela Fuente, who is a regular on Broadway and has appeared in many of its productions, sang and tried to throw jokes into the audience to no avail. Honestly, I dont think any one in the crowd really knew who he was and everyone was waaayyyy more eager to hear the results!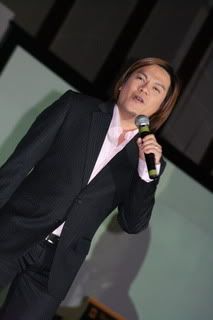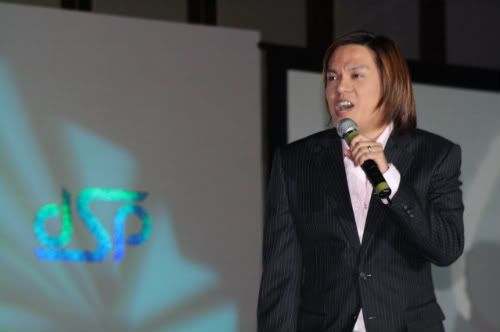 But I have to give him credit; his voice quality is definitely impressive.
Because of the great number of sponsors this year, the girls had PLENTY of subsidiary awards – 7 to be exact.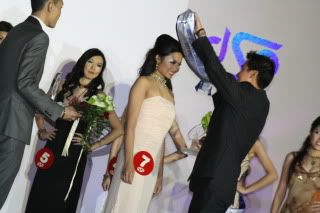 Miss Fitness: April Wang
The unlimited usage if DS MediFitness facilities for 1 year, monthly face or body treatments at the DS MediSpa and $500 cash is hers to keep!

Miss Personality: very pretty Rachel Kum. She wins $500 cash sponsored by Harley Davidson and Hyundai.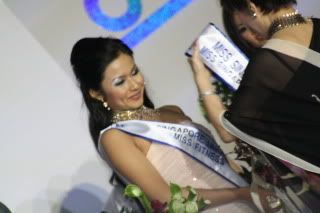 Miss Singapore Shawl Universe 2009: April Wang again!
A $500 Eco Friendly Bamboo Shawl with Jade and Crystal and $500 cash is her prize!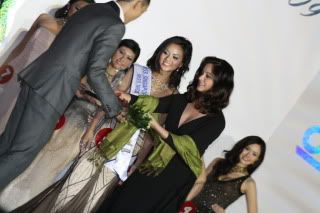 Miss Nice and Natural: Cheryl Wee.
You think they mean someone who has never had plastic surgery? Haha! She gets $500 cash and Uppercuts products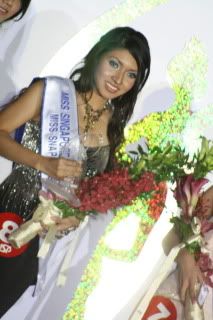 Miss Snap-on Smile: Siti Syabaniyah
She gets smile enhancements worth $2500 and $500 cash! Shiok or not! But I think it's funny how people who win Best Smile or what nots get treatments to ENHANCE their smiles.
FINALLY it's time to announce the Top 3.
First up, the 2nd runner up. Bernice Wong, Miss Singapore Universe 2003, is invited to give out the sash and flowers. She's dressed a short red dress skin tight dress that shows off her legs. I must say she lost weight tho. She's so skinny in person and didnt actually look very happy to be on stage.
And the winner is….. Cheryl Wee!

Eh Cheryl doesnt look very happy in this picture to only land herself as 2nd runner up.
It was obvious Cheryl had really strong support from her friends and family. They occupied FOUR tables and even had large posters printed for everyone to hold.

Isnt the composition of the picture awesome?!
Then, the first runner up. The person who will succeed the position of Queen should the queen not be able to fulfill her duties accordingly is…. April Wang!
She also clinched 2 other subsidiary awards earlier. Lucky girl!
Lastly, for the announcement of the winner, as per tradition, they invite the winner last year on stage. The queen, Shenice Wong, takes her last walk as queen before she passes her crown on to her successor.
I thought it was quite funny that as she came out on stage, some guy made this comment: "That's not real man. That's ALL not real." Wahahahahaha!
The anticipation of the remaining girls.
And when the results are announced, Rachel is stunned. But there was never really any doubt. She was the clear crowd favourite.
Miss Singapore Universe 2009 –
Rachel Kum
Also winner of Miss Personality and Miss Body Beautiful. A triple award winner!
Taking her first walk as queen.
SO PRETTY LA.
Our Top 3.
And the crazy photo-taking begins.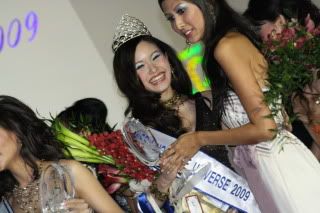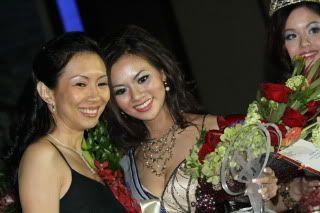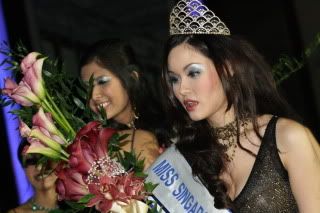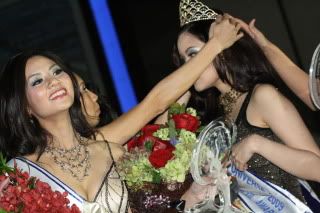 I feel like a paparazzi snapping pictures of all these glamourous girls. Ok so my focus was on Rachel, but seriously, that girl has no bad angles.
But we must not neglect the other girls! The after-party was about hob-nobbing with the who's who. After looking carefully at the book, I realised that I happen to know 3 of the girls in the pageant! So I got to hang out with the pageant girls this year and cam-whore! I even got a picture with the winner this year! Wo0o00o0ot! Of course, with my hasty makeup I literally pale in comparison to her unrivaled beauty.

Think I stand a chance at the crown? Haha.
And then there's Daryl Pang, organiser of the event.
With lovely Huiting whom also came in Top 5 at Miss Singapore International 2007 with me!
The other girls who were in MSI 2007 too. How they've all grown and become more beautiful and well-groomed.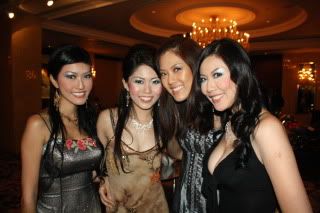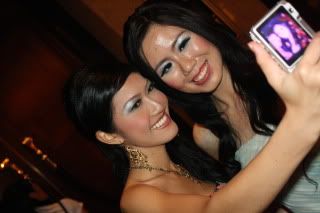 Picture with Bernice Wong and Vivian Tan. Vivian was really nice and asked if I wanted to stand in between the both of them. Haha.
It was an awesome event and hats off to the organisers and girls who took part this year. The event was definitely waaaaayyyy better than what we had last year. I do feel a tad sore I didnt take part this year. But nevertheless, it was still great to be invited back to feast my eyes on the buffet of girls.
Maybe I should take part next year!