vPost Nuffnang Christmas Party Rocks!
I scrapbooked till my eyes bled. Seriously. Though the templates were almost similar for each page, there are subtle differences. Each page had almost 30 over layers and having to tweak bits and pieces, making sure that THIS did not overlap THAT, nor should THAT layer overlap THIS one was killer when I wasnt working on my big-ass Mac screen.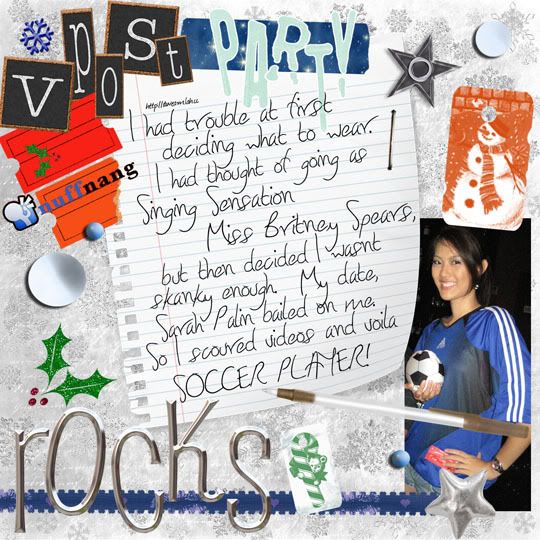 Because female soccer players are always cool.
Guess what. I stupidly asked Cindy if she was a Malaysia Featured Blogger. DUHHH. I knew I'd seen her face somewhere. She's the winner of Malaysia Dream Girl contest!
I got a video of her on the stage when she had to catwalk for her lovely Venus costume.
[youtube= http://www.youtube.com/watch?v=bZs7aim4jIk]
I finally got to meet Audrey aka fourfeetnine in person! She is as cute in person as she is on her blog! And her awesome Bride outfit won her Best Dressed Female! Wo0o0o0ot!
Here's her on the catwalk parading her costume!
[youtube=http://www.youtube.com/watch?v=KQoTi8rMVQM]
She definitely played the role to a T and deserved to win!
And then there was blogging great, Kenny Sia, who of course needs no introduction, who was cleverly disguised as an Old Man.
In accordance to the Christmas and vPost themed party, there were several Santarinas! A wonderful present to all the guys present.
Typical Ben won the hearts of BOTH males and females alike when he was crowned Best Dressed Male. Haha. I bet he broke several guys' hearts too when the truth behind the pretty female frame was revealed! He pwns some girls flat! He's just too pretty!
[youtube= http://www.youtube.com/watch?v=8Pq40jO4UFA]
Him on the catwalk being all sweet and girly. He sure can gelek!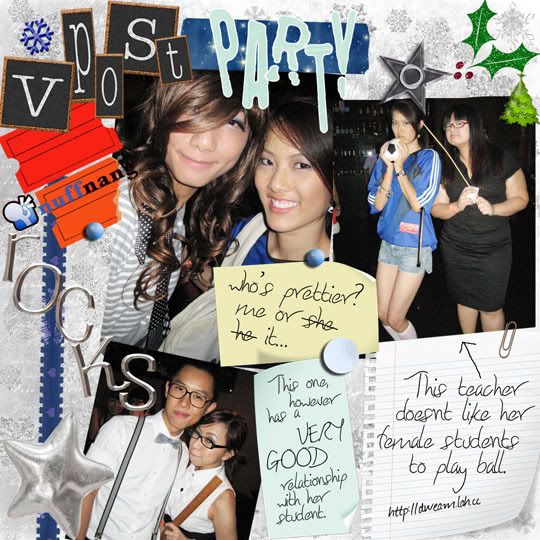 And we all had to keep some good behaviour that day because there were more then enough teachers presents to give out spankings to naughty kids! Bwahahaha!
MERRY CHRISTMAS EVERYONE!